GNOME, the popular Linux desktop environment, comes with many applications by default. The GNOME desktop suite of built-in applications can meet the daily needs of the desktop user.
GNOME applications include Boxes, a virtualization tool that allows Linux users to emulate other operating systems. With this application, you can make virtual machines work right out of the box.
What are GNOME Boxes?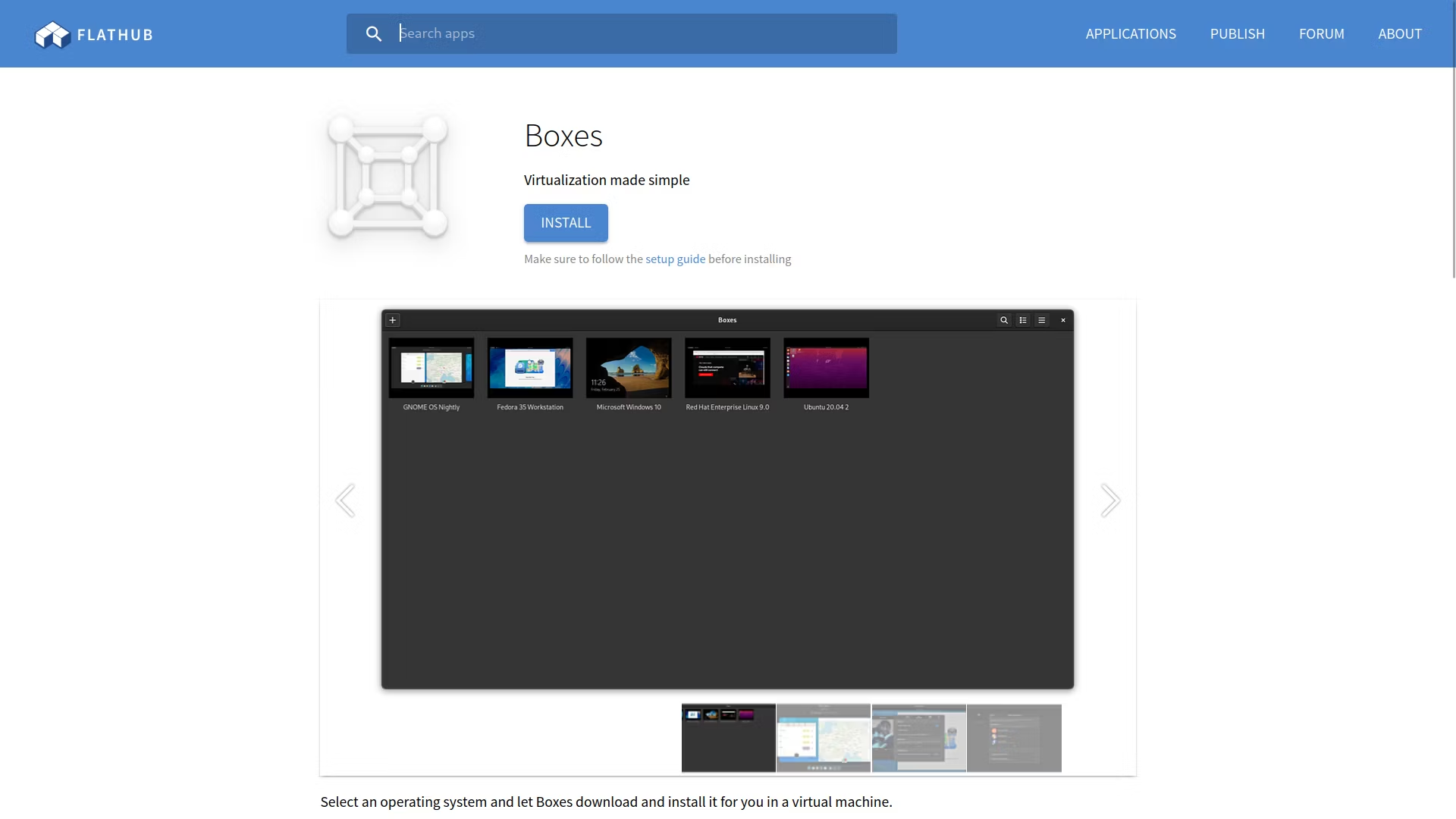 Boxes is an easy-to-use virtualization tool built for the GNOME desktop environment. Applications such as Boxes allow users to run virtual machines or emulated operating systems on their desktops.
Boxes is very useful if you are a distro lover and want to try other Linux based distros. You can also use Boxes to set up a Windows virtual machine if you've just moved to Linux but still have some tasks you need to complete on Windows.
GNOME Boxes, in particular, is a graphical implementation of the open source virtual machine emulator QEMU. QEMU serves as a great alternative to other popular virtualization applications such as VirtualBox and VMware. Free, open and cross-platform, QEMU makes it a reliable virtualization tool.
The GNOME Virtual Machine Tool may remind you of a similar application called virt-manager. While both are QEMU-based graphical virtual machine applications, Boxes favors ease of use over virt-manager's many customization options.
virt-manager is great for advanced users who want to get the best performance out of their virtual machines. Meanwhile, Boxes is perfect for new VM users. It's also great for those who want to emulate operating systems without the fuss.
GNOME Boxes also has an elegant user interface based on GNOME. Both are just two of many other QEMU-based virtual machine emulators.
Boxes is built into GNOME based Linux distributions such as Fedora. If your distribution does not ship with Boxes, it should be available in your distribution's official repositories. To install Box this way, use one of these commands:
For Debian/Ubuntu users:
sudo apt install gnome-boxes
For Fedora users:
sudo dnf install gnome-boxes
For Arch users:
sudo pacman -S gnome-boxes
You can also install boxes via Flatpak. Note that while the Flatpak version tends to get quick updates, it lacks a feature to allow virtual machines to access USB drives.
Download: Boxes
How to set up a virtual machine in Boxes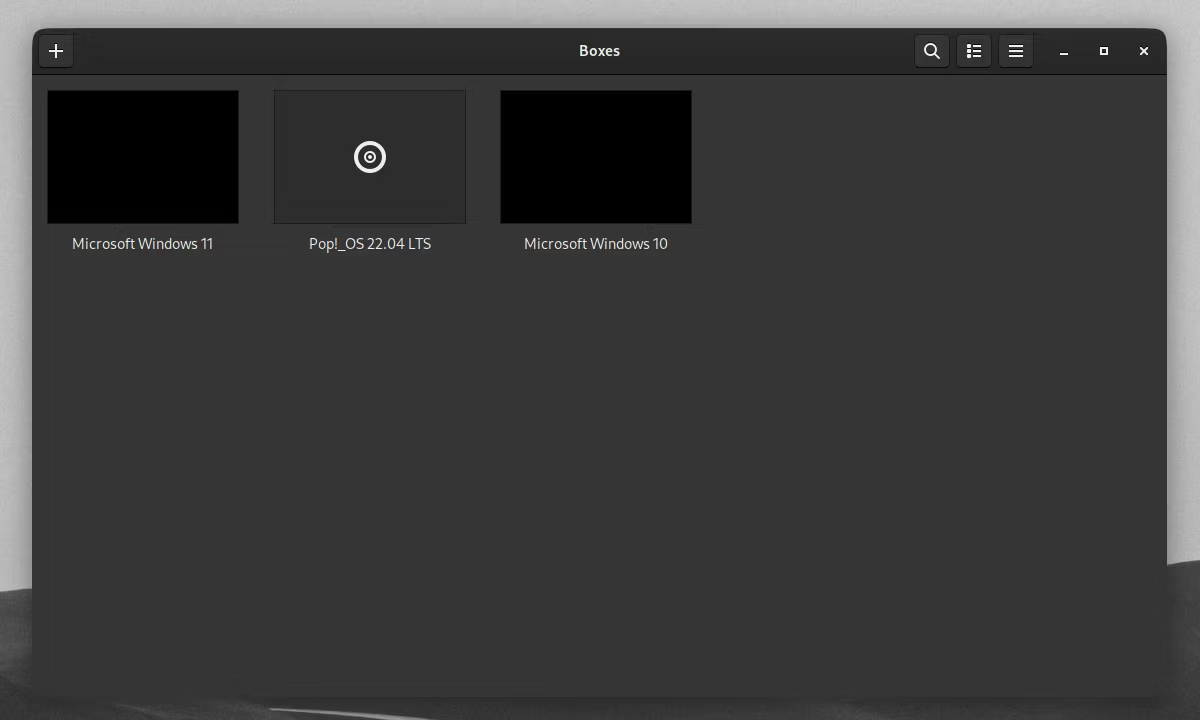 Setting up a virtual machine on GNOME Boxes is very easy. From the main window of the Boxes application, you can open, create, close, and delete virtual machines. To create a new virtual machine on Boxes, click the Plus button in the upper left corner of the screen.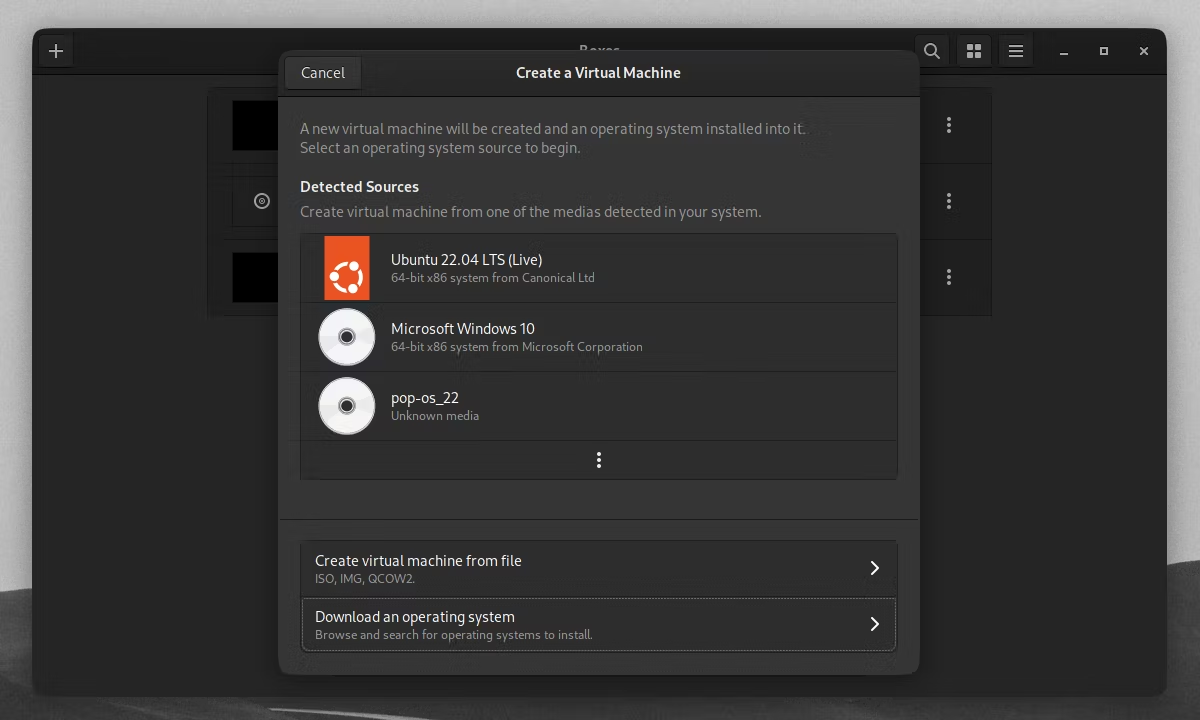 In the "Create a virtual machine" window, Boxes will prompt you to select an OS for virtualization. Boxes will detect any OS disk images that are on your file system. You can also manually find the disk image file. Boxes also gives users the option to download an OS disk image from within the app.
We will be using Ubuntu to test the application, but any operating system will run on Boxes.
Once you have chosen an OS, you can proceed to set up the virtual machine. Click "Express Install" if you want Boxes to make it easy for you to install the OS. You will need to first set up a home user on your VM using the express install. Please note that this feature may not work on all operating systems.
When you're done, click "Next" to continue.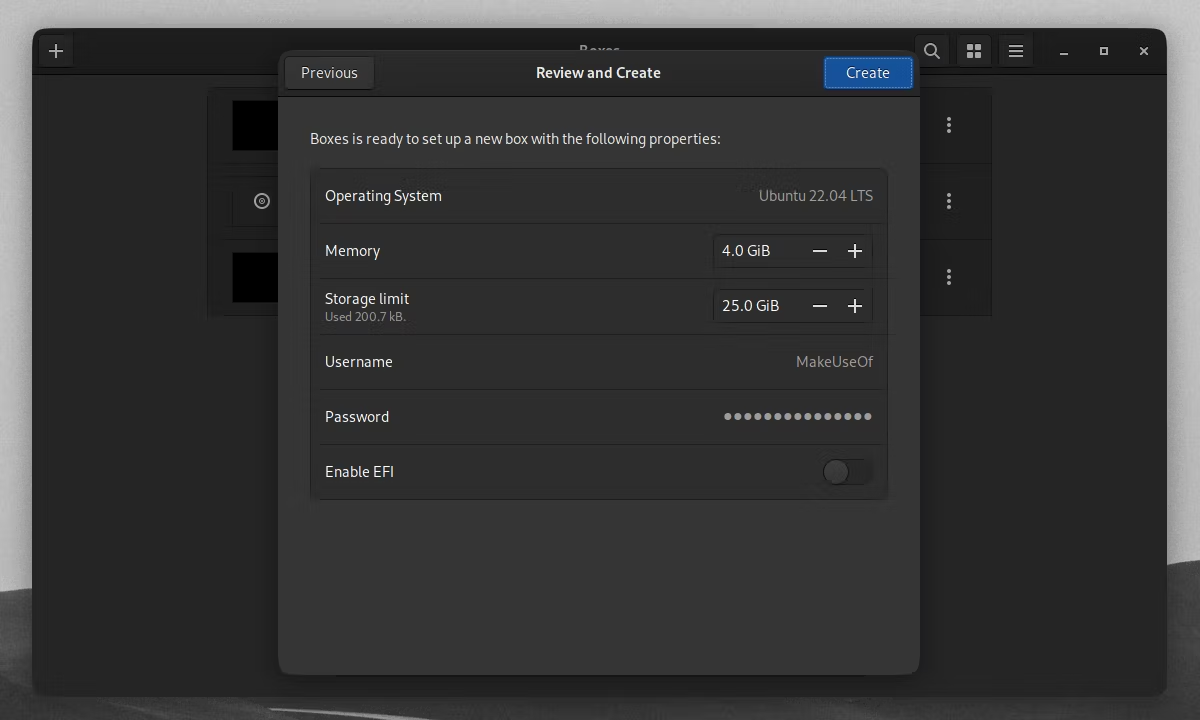 Before creating a virtual machine, you can specify how much RAM and disk space you want to allocate to the virtual machine. You can also use EFI instead of legacy BIOS in your virtual machine. Click "Create" to start creating your own virtual machine.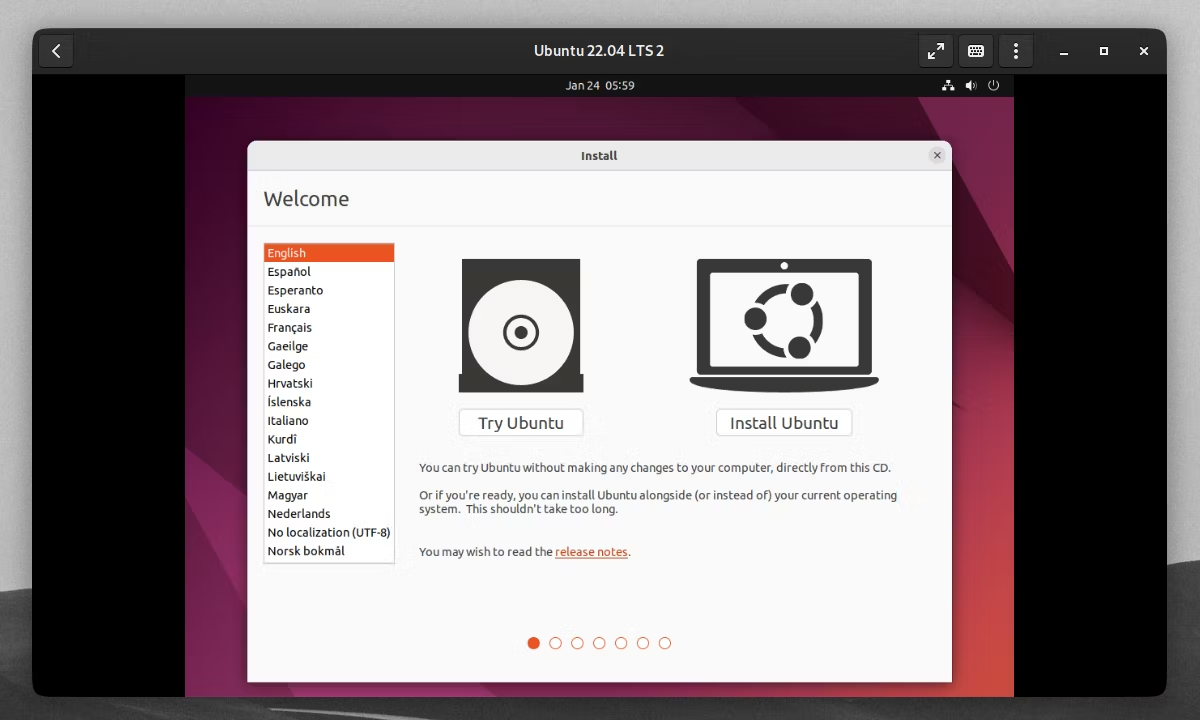 After booting the virtual machine, you will need to install the OS if you opted out of express installation.
If you're following this guide and setting up your own Ubuntu virtual machine, then most of the steps in our Ubuntu installation guide apply to you.
Once you have installed the OS in your virtual machine, you can use the virtual machine as if it were a separate desktop. You can test and play with the virtual machine according to your needs.
At any time, click the arrow button in the upper left corner to return to the main Boxes window. If you didn't turn off the virtual machine at the same time, it will continue to run in the background. You can also close the operating system in the virtual machine to save your work.
From the main window, you can force shutdown, clone, delete, and reconfigure your virtual machines. Cloning virtual machines is useful for testing various changes to the underlying virtual environment. You can also open the virtual machine in a new window. With Boxes, you can run two or more virtual machines at the same time – if your computer can handle it.
In the Settings window, Boxes provides virtual machine users with additional customizable options.
You can set up dedicated CPU cores, RAM, and disk space for your virtual machine. In non-Flatpak versions of Boxes, you can redirect your USB devices to connect to your virtual machine instead of your desktop. You can even share folders and files between your virtual machines and your main desktop.
Snapshots are an essential tool for any VM user. They allow users to undo any unwanted changes to their virtual machine. This feature works like System Restore on Windows or Timeshift on Linux.
To use the Boxes snapshot feature, go to the Snapshots tab in the Settings window. There you will be able to create a snapshot and restore it as needed.
Boxs has even more hidden features such as remote desktop and clipboard sharing. The GNOME Wiki covers these and other features of Boxes.
Simple out-of-the-box virtualization with GNOME Boxes
GNOME Boxes delivers on its promise to emulate operating systems without the fuss. It has a simple installation process and a modern user interface. Boxes is perfect for any Linux user looking to dive into the world of virtual machines.
Virtualization is an important part of the Linux ecosystem. Understanding virtual machines is important for any Linux user who wants to get the most out of their desktops.
2552140cookie-checkGNOME Boxes: An easy way to set up virtual machines on Linuxno
similar
Инструкции,Программы,gnome,GNOME Boxes,ubuntu

#GNOME #Boxes #Easy #Set #Linux #Virtual #Machines
❤ XOXO ❤