Koodo Reader is an open source e-book reader application for your Linux. Simply put, this is the all-in-one tool you need to read e-books on your Linux system.
Koodo fills in the limitations of other e-readers with a sleek look and a smooth user experience. While there are many e-book reader apps available for Linux (such as Foliate and Caliber), Koodo stands out for its unique features and functions. It is exceptionally lightweight and comfortable.
Benefits of Koodo eBook Reader on Linux
Koodo is an open source e-book reader with unique features and functions that can take your online reading experience to another world.
The interface of this application is quite simple and easy to use. There are five main sections on the left side (Books, Favorites, Notes, Highlights, and the Trash tab).
In addition, Koodo makes it easy to import new books and back them up. The disadvantage of import is that you cannot import books by folder.
Instead, you need to select several separate files to import. And it only takes a few clicks in the top right corner of the app.
Easy and convenient user interface
As we said, Koodo is a lightweight app that provides a great user experience. When reading any book, you can highlight text in different colors, you can take notes, convert text to speech, and also search the Internet.
In addition, dark mode is also available in this e-book reader app for Linux. Switching between dark and light modes is very easy with Koodo. Actually, the list goes on!
Changing the font and size, adjusting the letter spacing, background color, brightness and many other features make the user experience better than ever.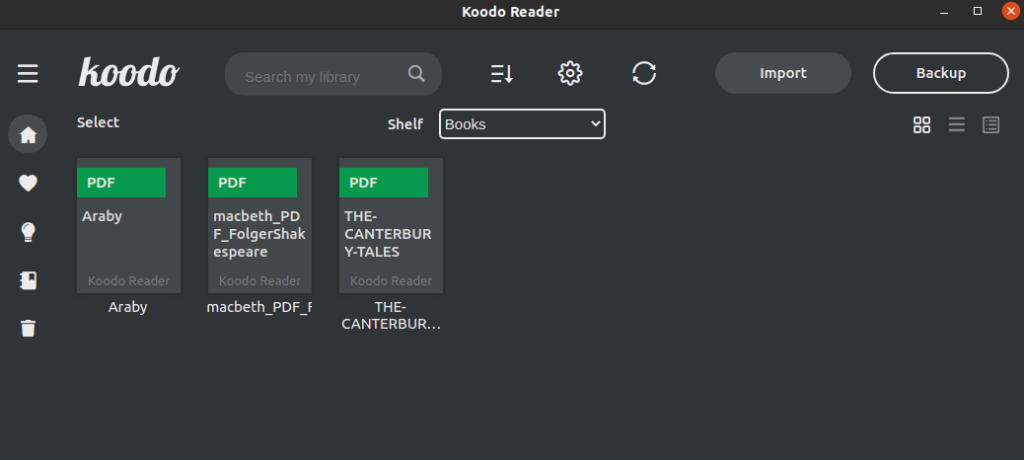 Best Customization
The Koodo e-reader provides many customization options. With one click, you can enable and disable all customization options, as shown in the attached image below. Plus, you'll get five color schemes to change the app's color palette.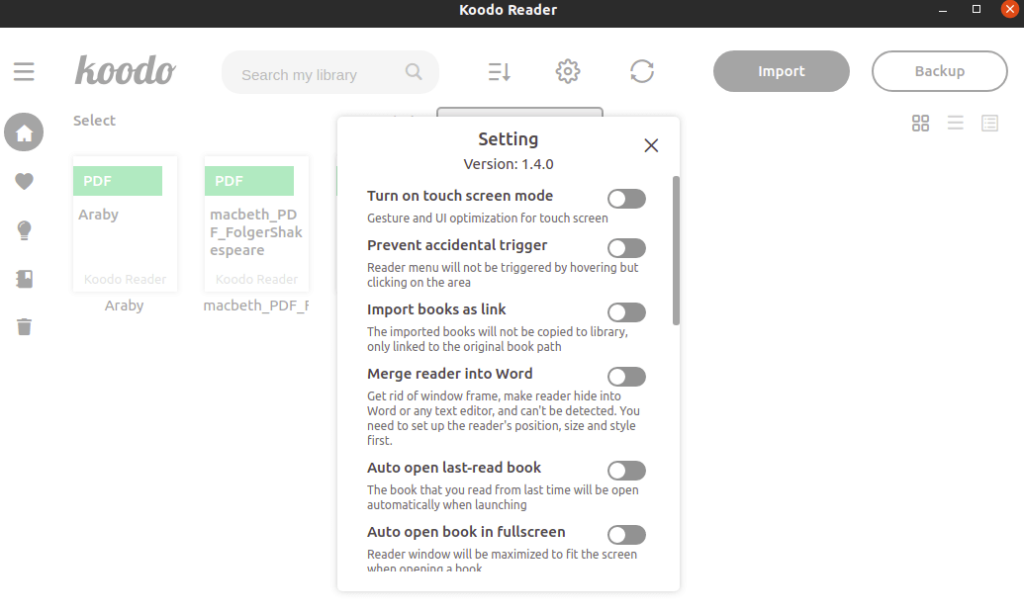 Formats Supported by Koodo
Google is the default search engine in the Koodo reader app, along with other established privacy search engines. You can switch the search with the toggle. But it would be great if the developers added the ability to customize a custom search engine.
And if we talk about the format, then Koodo supports most of it. It not only supports popular e-book formats such as PDF, Epub and Mobi, but also CBT, BR and CBZ. Docx, FictionBooks (.fb2), Rich Text Format (RTF), and Markdown.
Koodo installation process on different Linux distributions
The installation process for Koodo is very simple. But the good news is that you can test it online before installing it on your Linux system. A free online version of Koodo is available. It will open in a web browser and you can test all the features. Because this data is stored locally in the web browser, when you use it online, clearing the cache will remove all data (such as highlights, notes, etc.).
Did you like the online version? If yes, you can now download and install it on your Linux desktop or laptop. This application supports various Linux distributions such as Ubuntu, Arch Linux, Debian, OpenSUSE and Fedora. Along with the deb package, it is also available in Snap Package and AppImage. So choose the installer you prefer below, install and read the e-book on your Linux system.
So now let's see, depending on the Linux OS you are using, how you can install Koodo ebook reader on your computer. To do this, simply open a terminal window.
1. Ubuntu/Debian
To get the DEB package on your Ubuntu/Debian system, use the wget download command below.
wget 
For Ubuntu: Once the download is complete, run the apt install command below to install Koodo on your Ubuntu Linux system.
sudo apt install ./Koodo.Reader-1.4.0.deb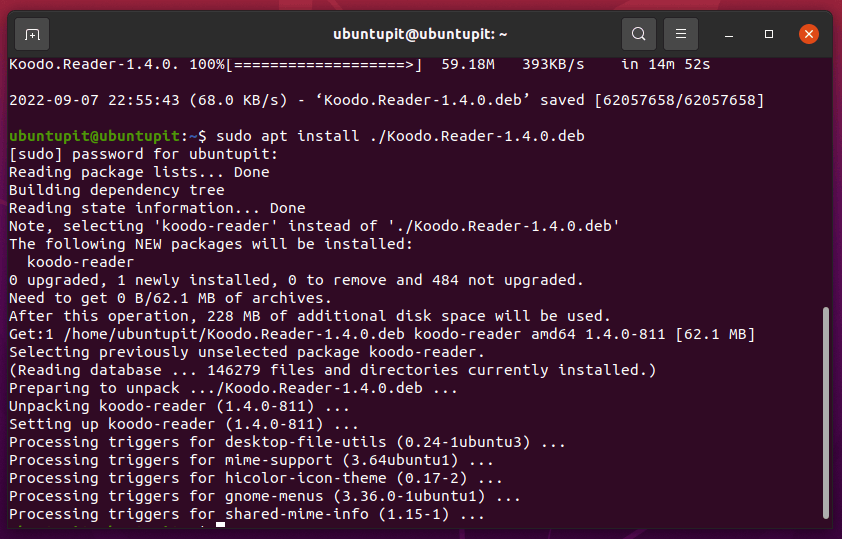 For Debian: once the download is complete, you must install the package on your Debian system using the dpkg command. So let's start the installation process with the following command.
sudo dpkg -i Koodo.Reader-1.4.0.deb
Finally, once the package is installed on your Debian system, you need to run the following command to avoid dependency issues if there are any in the DEB package.
sudo apt-get install -f
2. OpenSUSE/Fedora
Anyway, if you are an OpenSUSE/Fedora Linux user, you have good news from Koodo! That is, the RPM package of the Koodo application is available to you.
Having said that, copy and paste the following wget download command into your terminal and you will have the RPM package in your hands.
wget 
For OpenSUSE: when the RPM package download is complete, use the following zypper command.
sudo zypper install Koodo.Reader-1.4.0.rpm
For Fedora: after successfully downloading the package, use the following dnf install command.
sudo dnf install Koodo.Reader-1.4.0.rpm
3. Arch Linux
Unfortunately, there is no official version of Koodo for Arch Linux. Not in the official software repositories, nor in the AUR.
As a result, it can be found as an Arch Linux package converted with the Debtap tool.
Here is the command below for you. Go to the terminal, paste the following command and install Koodo on your system.
wget 
sudo pacman -U koodo-reader-1.3.9-1-x86_64.pkg.tar.zst
4. More tips: Snap package
To get Koodo as a Snap package on your Linux system, you first need to enable the Snap package runtime.
After you enable the runtime on your Linux system, install the latest Koodo snap file on your system using the following wget command.
wget  -O ~/Downloads/Koodo-Reader-1.3.9.snap
Now run the command below to install the Snap package. Also, be sure to use the -dangerous flag on the command line when installing.
Why do you need a -dangerous flag? Because the package is not available in any official store.
cd ~/Downloads/
sudo snap install Koodo-Reader-1.3.9.snap --dangerous
Koodo on Your Linux System: The Complete User Guide
Let's walk through the step by step process of using Koodo on your Linux system. When you have successfully installed Koodo on your Linux, launch the application from the application menu and follow the steps below.
Step 1: Import Files on Koodo
After opening the application, find and click the "Import" button in the upper right corner and click on it. By clicking "Import", you will get a pop-up window that will ask you to select the files you want to import into Koodo. Find and select e-book format files (PDF, MOBI, EPUB, and others) and click Open.
Step 2: Add more new files
You now have your ebook files on Koodo. What if you want to add more new ebook files to Koodo? Repeat step 1 and send as many files as you want.

Step 3: Open and read your e-books
After successfully importing all ebook files to Koodo, you can open and read your book. You may have questions, such as where to find e-book files. The answer is that you will find all the files in the Books section.
As soon as you click and open any file, the user interface for reading will appear in front of you. Moreover, when reading any e-book on Koodo, you can bookmark it. Select the bookmark icon and you're done.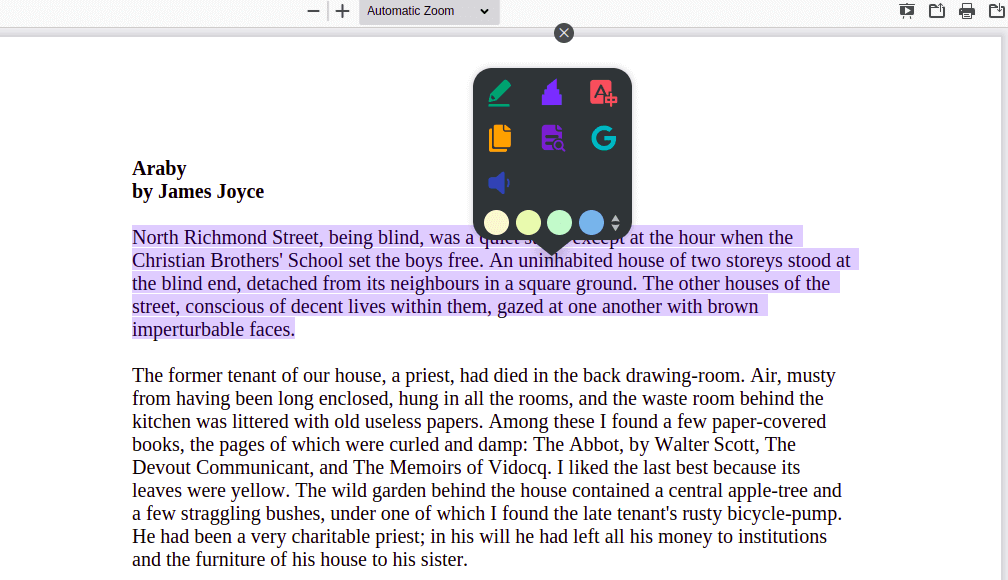 2401200cookie-checkKoodo Reader: e-book readerno
similar
Инструкции,Обзоры,Программы,debian,Koodo Reader,linux

#Koodo #Reader #ebook #reader
❤ XOXO ❤