If you think that office programs are solely for writing texts, performing calculations in spreadsheets, and creating informative presentations, you are wrong. Some office suites are capable of doing much more than regular office tasks.
One of the most prominent examples is ONLYOFFICE Docs, a self-hosted online office suite that runs flawlessly on Linux and Windows servers. In this article, you will find 5 of the best open source plugins that can greatly extend the standard functionality of a package.
What are ONLYOFFICE Documents?
ONLYOFFICE Docs is a good alternative to Microsoft Office for Linux based operating systems. In a nutshell, this is an online office suite that comes with web editors allowing you to create and edit text documents, spreadsheets, presentations, and fillable forms in your browser.
The package is fully compatible with OOXML formats (DOCX, PPTX and XLSX) and supports other popular formats, including ODF.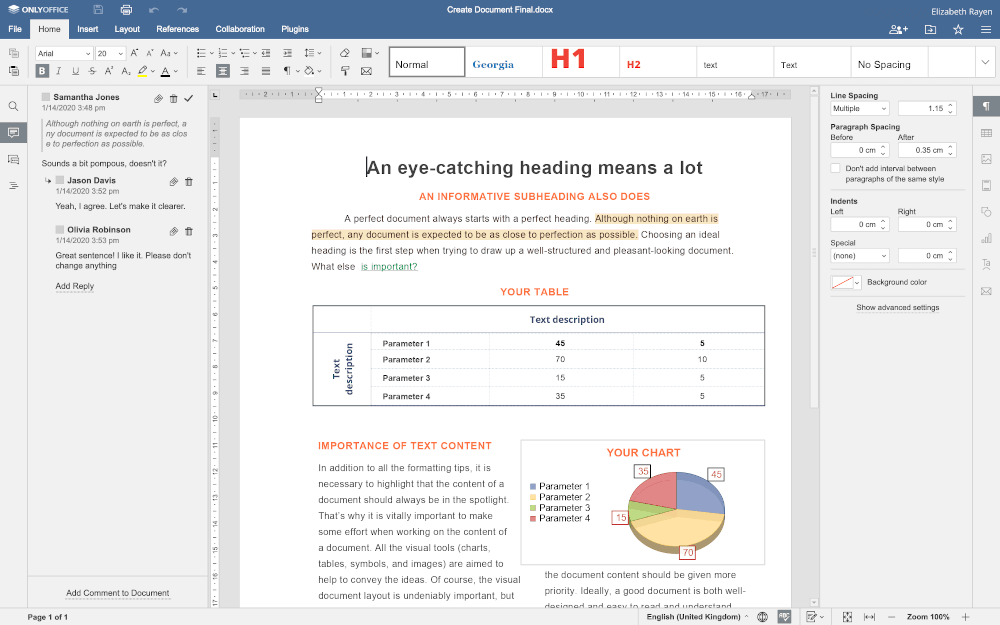 ONLYOFFICE Docs is ideal for collaboration thanks to the following features:
flexible access rights – full access, review, comment and read only for documents, form fill for online forms and a custom filter for spreadsheets.
two modes of co-editing that can be turned on and off at any time: fast to show all edits in real time and strict to show all changes only after saving.
track changes, version history and version control.
real-time communication with custom tags, comments and chats.
ONLYOFFICE Docs can be used within ONLYOFFICE Workspace, an enterprise collaboration platform, or integrated with popular Sync & Share platforms and DMS services, including ownCloud, Nextcloud, Seafile, Alfresco, Confluence, Moodle, WordPress, and more.
In addition, ONLYOFFICE Docs offers a free desktop app for various Linux distributions and mobile apps for iOS and Android.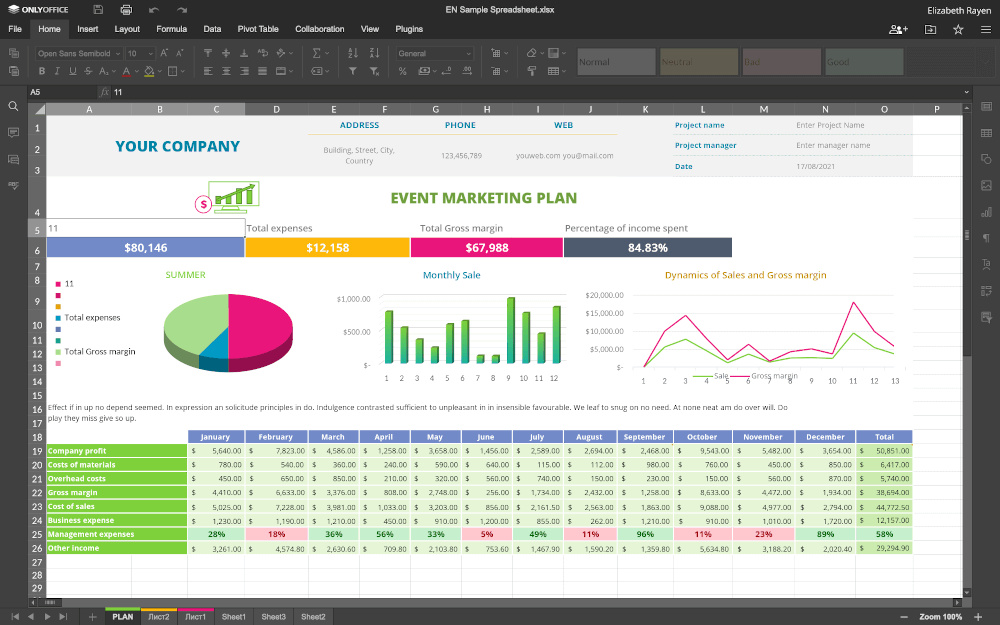 Why use ONLYOFFICE plugins?
One of the biggest advantages of ONLYOFFICE Docs over other office suites is the ability to use plugins. A plugin is an additional software tool that is installed in ONLYOFFICE Docs to extend its functionality. For example, you can connect a third party service or improve the user experience by adding interface elements.
All installed plugins are in one place, under the "Plugins" tab on the top toolbar, so you can conveniently access them when needed.
Now let's take a look at the most useful plugins that turn ONLYOFFICE Docs into something more powerful than a traditional office suite.
1. Doc2md
doc2md is an open source tool that allows you to easily extract docstrings from a module or class and convert them into a simple GitHub Flavored Markdown document.
This way you can quickly create README.md files for your GitHub projects. There is no doubt that software developers who need plain text in Markdown format will find this plugin extremely useful.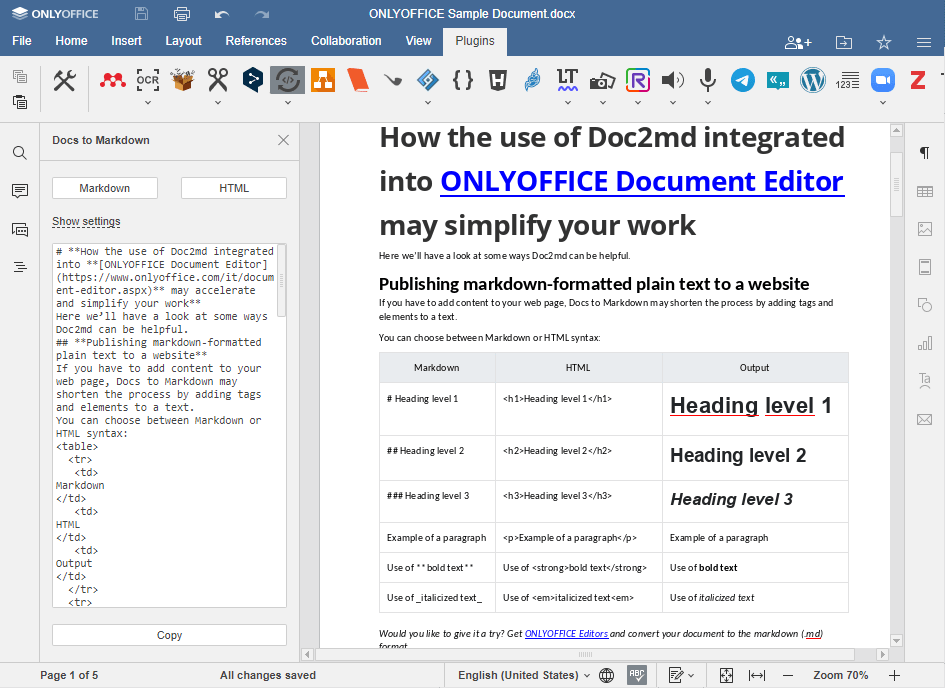 2. Draw.io
Draw.io (currently known as diagram.net) is an open source application that allows you to create various types of diagrams, including flowcharts, mind maps, Venn diagrams, architecture diagrams, UML diagrams, and more.
Compared to the built-in charting tool, this plugin provides more ways to visualize data.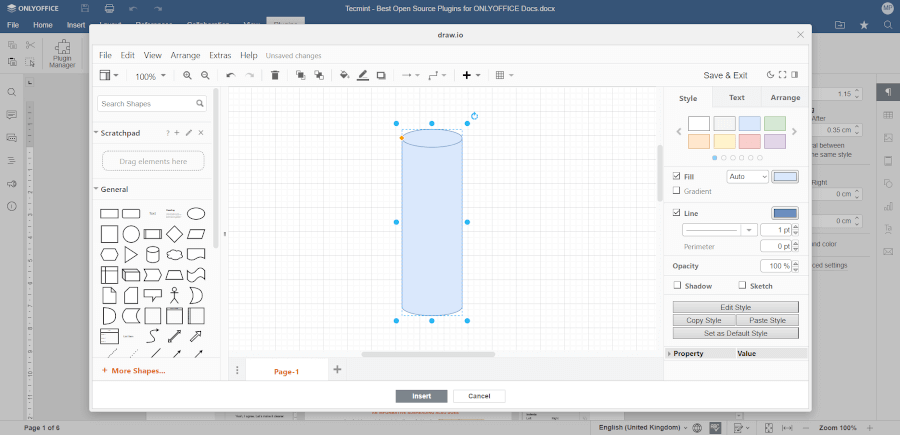 3. Jitsi
Who said that office programs are not for communication? Using Jitsian open source audio and video conferencing tool, you can chat with other users in real time without using third-party applications.
This plugin allows you to make audio and video calls directly in the ONLYOFFICE interface through the Jitsi SaaS server, so you don't need to install anything.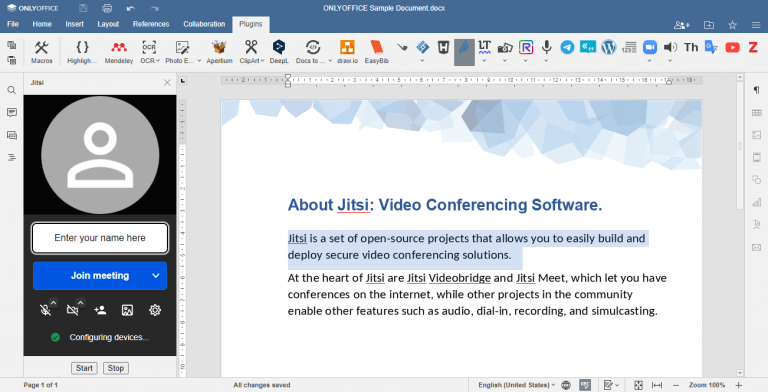 4. Apertium
If you often deal with foreign languages, this plugin is a must for you. Apertium is an open source translation platform that comes with a language-independent machine translation engine.
This allows you to accurately translate texts directly into the document you are working on in seconds.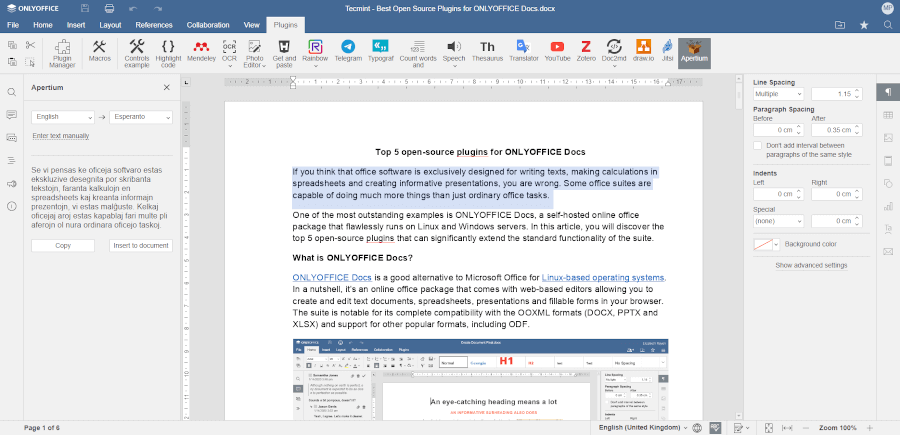 5. So
Such is what students and teachers often need. This is a free service that allows you to create bibliographies in your documents.
Using the built-in interface, you can find any source you need and insert a link to it using one of the available citation styles.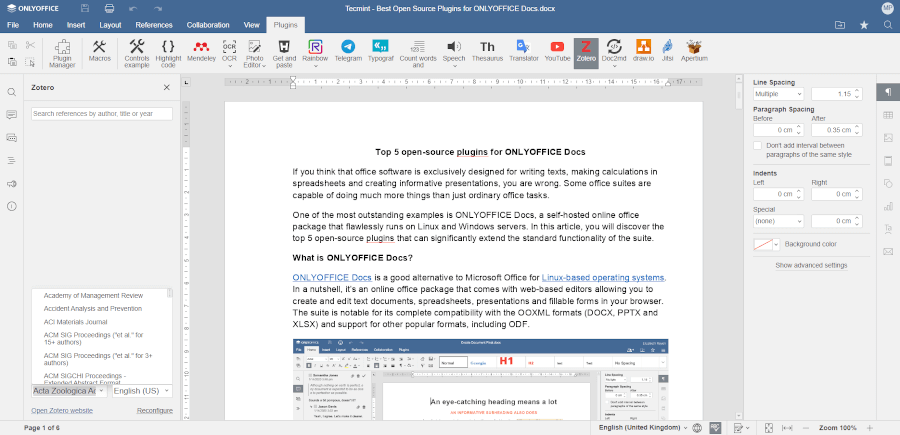 How to install plugins in ONLYOFFICE Docs
Of course, you need to have ONLYOFFICE Docs running on your Linux machine to be able to work with third party plugins.
Starting with version 7.2 of ONLYOFFICE Docs, which offers many new features such as new themes and interface languages, ligature support, new field types for fillable forms, special hotkeys for inserting, support for OLE spreadsheets and much more, you can easily install and uninstall plugins with a brand new plugin manager.
The ONLYOFFICE Plugin Manager is located on the Plugins tab. When you click on the manager icon, you will have access to the ONLYOFFICE plugin store. There you will find all available plugins, each with a short description.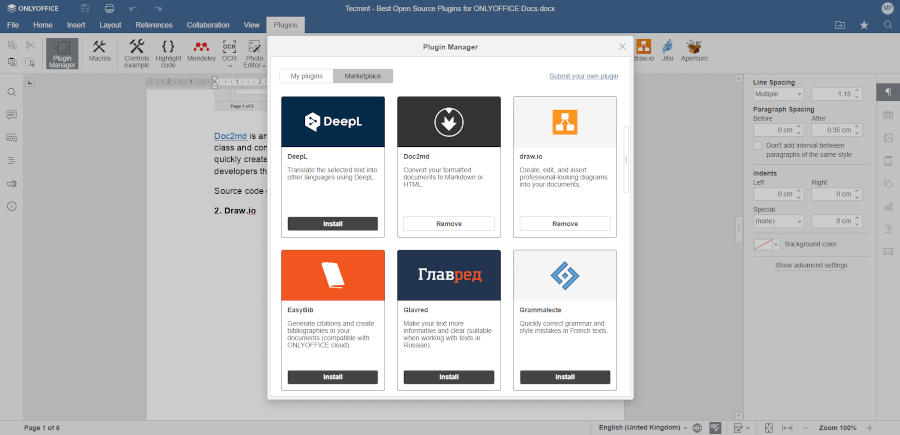 To install something from the marketplace, you just need to find what you need and click "Install". The required plugin will be installed automatically within a few seconds, and its icon will immediately appear on the Plugins tab. All you have to do is click the plugin icon and start enjoying its features.
The Plugin Manager also allows you to remove plugins that you no longer use. To do this, find the plugin you want to get rid of and click Remove. The My plugins section in the manager shows all the plugins you have already installed.
Manual installation of plugins in ONLYOFFICE Docs
In addition to the built-in manager, there is also a manual installation. If you prefer this method, you need to download the corresponding plugin from GitHub and place the plugin folder in the ONLYOFFICE Documents folder.
On Linux, the path to this folder is:
/var/www/onlyoffice/documentserver/sdkjs-plugins/
In some cases, you may need to restart ONLYOFFICE Docs.
For debugging purposes, you can run ONLYOFFICE Docs along with the sdkjs-plugins folder:
docker run -itd -p 80:80 -v /absolutly_path_to_work_dir:/var/www/onlyoffice/documentserver/sdkjs-plugins/plugin onlyoffice/documentserver-ee:latest
2429600cookie-checkTop 5 Open Source Plugins for ONLYOFFICE Docsno
similar
Категории,Обзоры,Программы,Apertium,Doc2md,Draw.io,Jitsi,linux,onlyoffice,ONLYOFFICE Docs,Zotero

#Top #Open #Source #Plugins #ONLYOFFICE #Docs
❤ XOXO ❤